Dogecoin scam is a kind of online fraud, which is based on the manipulation with cryptocurrencies. It appears as an unwanted banner or even a separate page in your web browser. Sometimes, the appearance of these promotions is a sign of malware presence. But first things first, let's check the things according to their order.
What is the Dogecoin scam and how does it work?
Cryptocurrencies became a point of interest for cybercriminals since 2017, when a first significant price surge occurred. Through the time, they were improving the methods of money gaining: crypto wallet hijacking and coin mining trojans appeared, and the online scam which looks like an attraction of unprecedented generosity is just one more way to get the tokens from the naive users.
The Dogecoin scam is not the first in its kind, and likely not the last. This fraud is distributed in different ways – through Facebook/Twitter and as a banner on different websites are the most popular ones. Some users say that the Dogecoin fraud promotion appeared after being infected with adware. Whatever it is, both banners and spam in the social networks lead to the musk-in.com website. This page says the next:https://loaris.app/blogs/what-is-cryptocurrency/
JOIN THE GIVEAWAY
Elon Musk believes that blockchain and Doge will make the world more fair. To speed up the process of cryptocurrency mass adoption, We decided to run 100 000 000 DOGE giveaway.
To participate you just need to send from 5 000 DOGE to 10 000 000 DOGE to the contribution address and we will immediately send you back 10 000 DOGE to 20 000 000 DOGE (x2 back) to the address you sent it from.
For example:
If you send 5 000 DOGE, you will be get 10 000 DOGE back.
If you send 10 000 DOGE, you will be get 20 000 DOGE back.
If you send 100 000 DOGE, you will be get 200 000 DOGE back.
If you send 1 000 000 DOGE, you will be get 2 000 000 DOGE back.
If you send 5 000 000 DOGE, you will be get 10 000 000 DOGE back.
If you send 10 000 000 DOGE, you will be get 20 000 000 DOGE back.
Contribution Special BONUS:
10 000 DOGE + = 1 000 DOGE BONUS
25 000 DOGE + = 2 500 DOGE BONUS
50 000 DOGE + = 5 000 DOGE BONUS
100 000 DOGE + = 10 000 DOGE BONUS
1 000 000 DOGE + = 100 000 DOGE BONUS
10 000 000 DOGE + = 1 000 000 DOGE BONUS
PAYMENT ADDRESS
You can send DOGE to the following address:
DNtu44cRemfJPcB3YaFK4tUZkW1Xmr1R8o
Copy Address to Clipboard
Waiting for payment
7 999 874 / 100 000 000
Last chance
to get your DOGE!
— Note on musk-in.com
Doubling the coins amount is a very pleasant thing, and since the DOGE is quite a cheap cryptocurrency, such a giveaway can attract even not very rich users. 5000 DOGE costs about $284, and a lot of people will spend this money just thinking that this sum is small enough to risk it. However, a lot of victims don't even think that they are risking. Fraudsters manipulate the attention which was paid by Elon Musk to this cryptocurrency, and claim that he created this giveaway in order to popularize cryptocurrencies. It is easy to refute these words – just check Musk's Twitter. He said a lot about Dogecoin, and I am sure he will not miss the chance to spread the news about such a giveaway.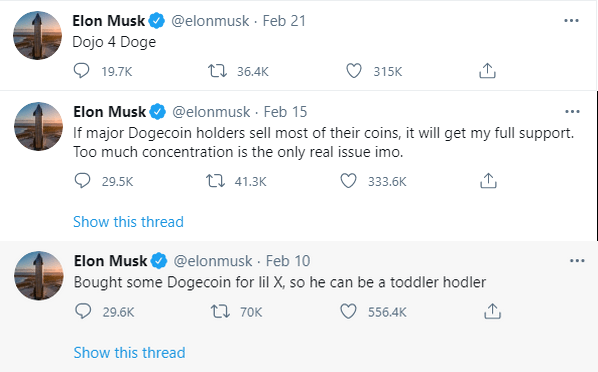 How dangerous is this scam?
The main hazard this scam deals is a money loss. Of course, nobody will give you back a double amount of Dogecoins. Any user can easily bankrupt this scheme by constantly reinvesting the obtained amount of coins. Hence, the Dogecoin giveaway is a fraud, or a poorly projected thing which can be hacked by everyone who has ~$300. But you lose not only your money.
To take part in the giveaway, you need to enter your name, email, cryptocurrency wallet, and phone number. Personal information of this sort can easily compromise a lot of things, and you are not selling this info, but even paying the cyber burglars. Isn't it a strange exchange?
As it was mentioned, Dogecoin scam banners may appear because of adware activity. There are dozens of ways of getting the adware on your PC. You can read about the most popular ones in this post. And adware is not a virus you can ignore: besides the useless banners, it can also show you clickbait ads which contain a malicious link. The consequences of clicking on one of these links may be awful.