Pornographic virus alert from
Microsoft is another
variation of online scam
, which is caused by viruses. On this page, you see the notification that your PC is full of different viruses, and you need to call the Microsoft support. However, the "operators" of this support will offer you to do a lot of dubious things. Let's check the details.
What is Pornographic virus alert from Microsoft?
This is how the dubious banner is called. It is opened on a separate page in your browser, where you will see the notification about viruses on your PC. In this text, you will be ensured that you need to call the support, where you will be instructed about the supposed methods of malware removal. But the attentive users, who know the details of Microsoft policies, also know that Microsoft never shows the user any banners, and never offers to call the support.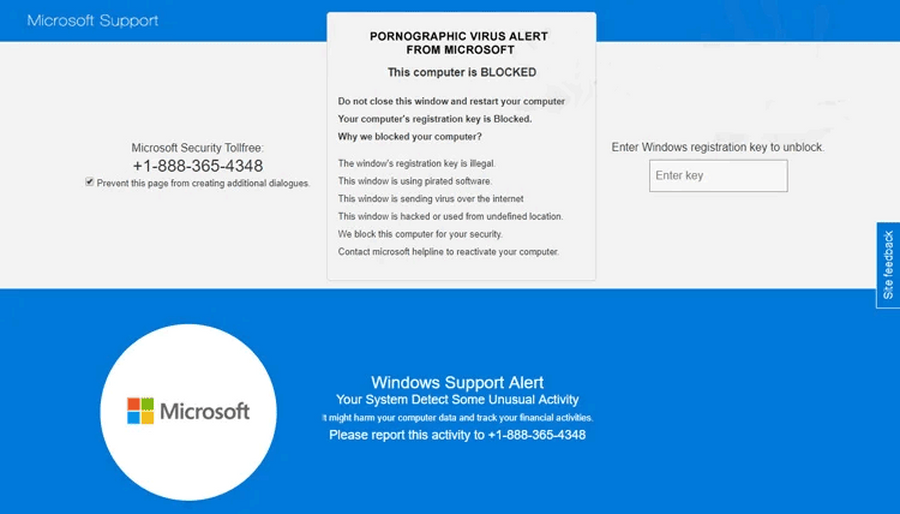 Even more interesting details are uncovered when you call the support by a number, specified on the pornographic virus alert from Microsoft banner. The exact phone number, by the way, is different from the original one which is posted on the Microsoft website. The "support managers" ask you to grant them remote access to your PC through one of the remote administration tools. After getting this, they are making some "checks" and then say that there are a lot of viruses on your PC, and you need to install the antivirus program.
Of course, you will not be offered to install something legit, like Norton, Kaspersky, Loaris or any other antivirus. Usually, such a distribution scheme is exploited by scareware developers. Scareware is a specific type of malware, which mimics the antivirus tool, but, in fact, has a very poor detection database, or has no database at all1. It randomly marks the files on your PC as malicious or vulnerable, blocks them, and then asks you to purchase the license for that program. No free trial is available, and there is no Quarantine tab or similar thing. It is also quite hard to get rid of this program, since it is not listed in the list with programs, and cannot be stopped through the Task Manager.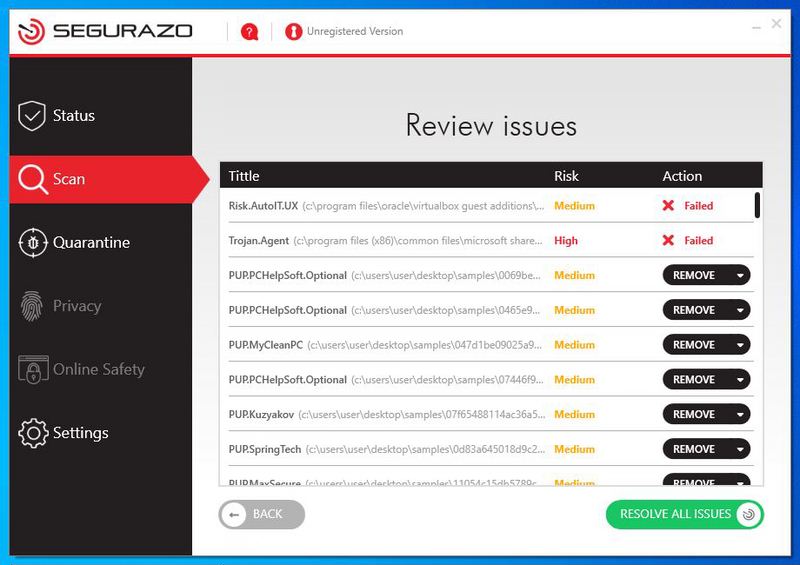 Scareware is a very unpleasant program, which makes computer usage harder. In some cases, this type of unwanted program may also have spyware or keylogger functions. Such examples of pseudo-antiviruses as SAntivirus or SAproduct are able to collect the information about the PC it is launched on. Configuration, often-used programs, installed anti-malware software, activity logs – all these facts are collected and sent to the command center.
But how can this thing appear?
The appearance of pornographic virus alert from Microsoft is a clear sign of adware presence. Adware is a type of virus which shows you unwanted promotions. It is distributed in many ways, and the most popular of them are described in this article. These banners cannot be removed with the use of anti-advertising plugins for web browsers. The only way to get rid of them is to use anti-malware software.
Don't think that adware is a soft virus, and that you can put off the removal without serious consequences. Today it shows you pornographic virus alert from Microsoft, but tomorrow it may substitute some of the search results with a malicious link. It is hard to distinguish a substituted link among the legit ones, so you will download a virus on your PC by your own hands.
More about scareware on Wikipedia
Pornographic virus alert from Microsoft