Sniffer Packets
Sniffer is a program or device whose function is to intercept and analyze your or someone else's network traffic. This process is also called traffic analysis.
What Is a Packet Sniffer?
If you briefly explain how they work and what the sniffers are, then you need to imagine a hidden camera in the corner of the room that records everything you see. And whoever owns that camera can see all the information on it.
A packet Sniffer (network analyzer, packet analyzer, or protocol analyzer) is a hardware or software whose purpose is to monitor network traffic.
In their work, sniffers study data packet streams that pass between systems in the network, the Internet, and network computers. Packet Sniffer is designed to test any Internet package. For IT professionals, network administrators, and providers it is a necessary and popular feature and not malicious. But attackers use it to capture data and information. Often hardware analyzers can be built into modems, routers, and other types of nodes. While software sniffers are most commonly installed on servers, destination computers, and intermediate devices.
How do Sniffers work?
Now let's take a closer look at how packet analyzers work. There are two basic sniffing methods – a passive sniffer and an active sniffer. The network structure you are trying to analyze affects the type of technique used. At work, the passive sniffer appears when working with hubs, but if switches are used, then the active analysis is activated.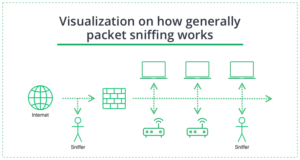 passive sniffing:
The concentrates we mentioned earlier are simple network devices that connect multiple devices into one network. There is no regulatory mechanism to direct traffic to the intended recipient. But it is better to say that devices that receive all traffic determine its relevance after receiving it.
In this case, the sniffer can easily receive all the network traffic that is sent to the devices. Thus, catching this cunning sniffer method is difficult.
active sniffing:
Network switches can solve the problem of high traffic when connecting other devices. Switches are commonly considered traffic controllers in a network, as they send data exactly to the devices that are designed to receive it.
To access everything that goes through the network, the active analyzer needs to put additional data packets into the network. This traffic is about to spoof the routing and show the sniffer what the switch is directing. Because of that the process is called active and differs from passive sniffing. But on the positive side, an active analyzer is easier to detect because of what it commits itself.
What Sniffers Are For?
Sniffers are designed for many different actions. These actions depend on the functionality of packet analyzers. The goals of using a sniffer can be different, both destructive and beneficial. Analysis of traffic that passes through the sniffer allows:
Detecting viral, parasitic traffic, the presence of which increases the load of network channels and network equipment.
To detect unauthorized and malicious software in the network, such as network scanners, trojan programs, and others.
Intercept any unencrypted and even encrypted user traffic that will result in passwords and other confidential information.
Localize network agent configuration error or network fault.
How to protect your system from a sniffer
As you may have realized, sophisticated systems of hacking and stealing information are everywhere. Therefore, we recommend you to exit without getting caught on similar types of pest programs. Below we will discuss the most common methods of protecting yourself and your data on the devices.
Use strong antivirus software:
There is nothing better than a reliable antivirus on your PC. The use of it is that it not only can detect on your device a pest but also can remove it and will not allow you to touch your data and your PC.

We offer you one of the best protection products – Loaris Trojan Remover that will take you away from such sniffers and more.

Avoid public Wi-Fi:
The problem of public Wi-Fi networks is that they can be easily controlled by threat actors. Attackers can easily sniff out the entire network, which is why you need to avoid using such networks. But if you are sure that public networks are encrypted, then use them with ease.
Avoid unprotected websites and messenger apps:
Breaking the encryption system can be done in several ways, but alas not for sniffers. You should stay away from untrustworthy sites and applications. Never share your personal data if you are not sure about the recipient. Also stay aware when using the sites that are not protected by industry standards (HTTPS/TLS). That will not make the sniffer hazard cease to exist, but the crooks will fail to read even a bit of your data.
Packet SnifferPublic Wi-FiSniffers