Setting up your personalized Loaris
User preferences include the settings of a general character, as well as those connected with specific scan options.
General settings are also applied to other applications installed and running on your computer. Some users prefer the program to be started together with Windows operating system. Loaris Trojan Remover offers this option. However, in default settings, this option is turned off. In the same way, the user can adjust the program to perform a scan on every program startup and update the database up to the level providing maximum PC protection.
If any malware is detected, Loaris Trojan Remover will inform you about this with a specific sound signal. Thus you will be able to analyze the threat immediately and take corresponding actions.
Other available options include anonymously reporting statistics to the Loaris team and using a connection to do the Loaris database via proxy server.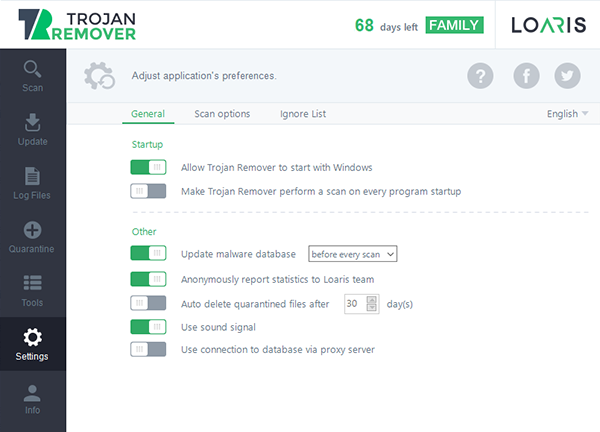 Choosing alternative Scan options is recommended for more experienced computer users.
The first option already set by default is an application by Loaris of heuristic rules during each scan. The key advantage of this scan settings option is the ability of Loaris Trojan Remover to detect known and unknown viruses based on common characteristics shared by different viruses. However, the information provided using a heuristic scan should be treated with caution. The summary information is generated using complex and sophisticated methods, which are difficult to interpret. Thus, if you notice that a suspicious file has been identified, we recommend that you send it to the Loaris Customer Support Service for further study and analysis.
Please take notice of the deep scan (slow) option. This mode goes through the entire hard drive to find infected files (if available). This is a far more thorough method, but it also takes a lot longer if you have a large drive.
If you are optimistic that your PC does not contain any suspicious packers, loaders, and incomplete files, you may ignore these options during your customized scan. In the same manner, you may ignore files that are larger than 64 MB if you want to speed up the scan process.
If there are any errors during the scan – the system will automatically warn you about them, provided you choose this scan settings option. If such errors are found – make sure to notify the Loaris Customer Support Team immediately.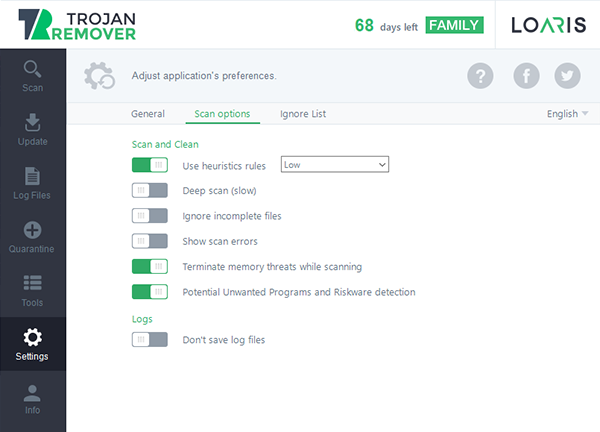 However, please be careful enough with the scan, as mentioned earlier options. If you are not confident enough to enable or disable some of them – please get in touch with Loaris for further assistance.
If you know some "safe" program that Loaris saw like malware, add it to the "Ignore list" so Loaris won't scan it like a virus.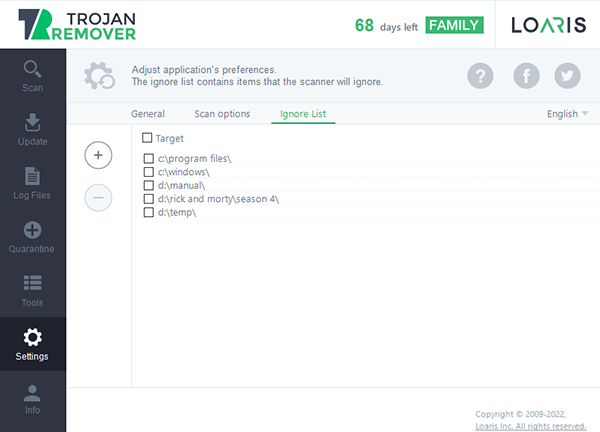 Frequently Asked Questions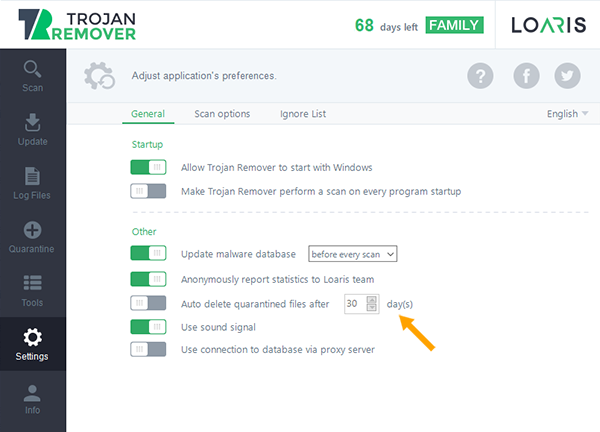 You can set an auto deleting option of Quarantine. For this you need to open Settings Tab and turn on a function "Auto delete quarantined files after 30 days". You can choose any period, that is more comfortable for you.
Loaris Trojan Remover has English, German, Hungarian, Indonesian, Italian, Persian, Polish, Russian, Turkish, Ukrainian. If it doesn't have your language, we will be happy if you help us to translate the program for a free key.