In times of difficulties removing the virus users must immediately notify us of the problems they have. We will not leave you without help or assistance on any issues.
Please do not hurry up to remove Loaris Trojan Remover from your computer if you have difficulties removing the virus with it. It might be that the virus was updated/modified and we need to make certain adjustments into our malware database to make sure that the virus is eliminated with the next scan.
Loaris Support Center
In order to streamline support requests and better serve you, we utilize a support ticket system. For your reference we provide complete archives and history of all your requests.
A valid email address is required to submit a ticket.
For this purpose you need to contact us via customer ticket support system available via this link – https://support.loaris.com/open.php
This page https://support.loaris.com/view.php also allows you to check the ticket status, you just need to indicate your e-mail address and ticket ID/number.
If you're not satisfied
We understand that sometimes difficulties removing the virus occur. However, before you ask for a refund, please tell us the same story of removing a virus from your computer and why you think Loaris Trojan Remover has failed to delete it effectively. It is a good idea that you sent us information about the state of your computer. You may have specific problems with your computer preventing the normal functioning of Loaris Trojan Remover. For this purpose, you need to run the unique tool called "Collect System Information" available in the "Tools" tab.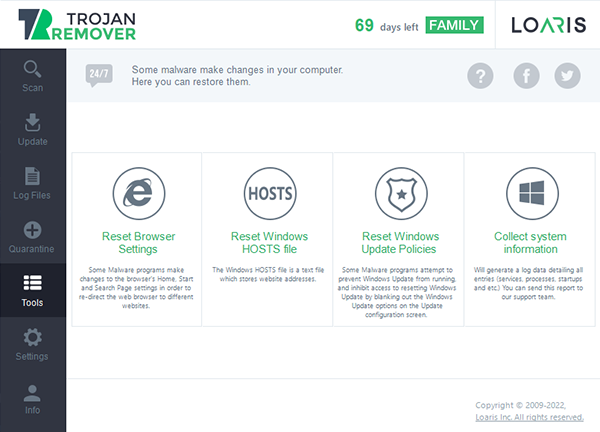 Please send us the latest scan log files for analysis. You may retrieve the scan log file by clicking the "Log Files" tab. Both of these files ("Collect System Information" and Log File) should be sent to us as the attachment via the customer ticket support system.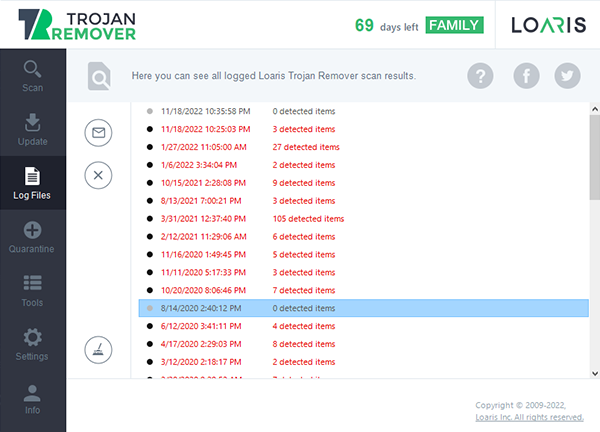 We will then consider the issue or refund, but first please let us do all our best to help you fix the problem and to help you using Loaris Trojan Remover in case you have problems with this.
Please bear in mind that 2Checkout is the main payment processing company for Loaris Trojan Remover software, this is why the refund issues are resolved by 2Checkout and /or Loaris Trojan Remover Customer Support Team directly. It should be mentioned that refunds are available within 30 days of the first product purchase or the first renewal by sending the Refund Request to the support@2checkout.com or directly to Loaris Support System.
You may choose either of these two options to submit your refund requests, however, it is better to contact Loaris directly. Refund requests that have not been resolved within 2 weeks by Loaris shall be processed by 2Checkout. For credit card purchases the refund will appear on the next credit card statement.