Malware Signatures Database
Our Virus Databases contain millions of virus signatures (or definitions), and unique sequences of bytes specific to each piece of malware.
To make sure the virus database is up-to-date and to provide the maximum protection, we strongly recommend you to check the version of the Trojan Remover application first. To do this, go to the Update tab.
The update module consists of two parts: application update and database update. It is worth noting that it is impossible to update the database if the program version is not updated. The databases are not backward compatible and, due to the features of removing new threats, are not suitable for older versions of the program.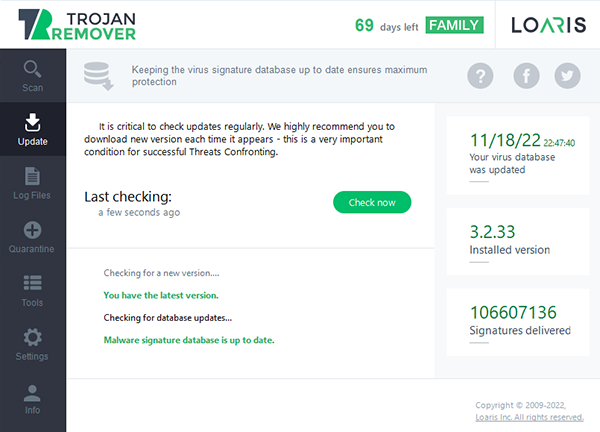 You can find information about the current version of the program and the virus database in the right part of this tab.
Frequently Asked Questions
We are not conflicting with other antivirus programs, but if you have any scanning and updating problems, try to temporarily disable other antivirus software.
Tell us about this problem here: https://support.loaris.com